Update: since this was my first real post, I was still figuring out the system, so I apologize for the weird formatting you might see on this page!
Also, I have two flickr albums of the wedding now:
Here for my favorite pictures or here for a bigger album.
Thanks!
Our wedding was perfect: very relaxed, in the country, infused with family and friends, beautiful, and summery. Here I'll share with you all of the details of our (mostly) DIY wedding. Warning: there are a lot of details!
The end product...our wedding.
All photos from our wedding are courtesy of our great photographers, Caroline and Marc.
(Caroline is of the blog Coeur de la)
I started out looking at photos using Pinterest and The Knot, as well as researching various sites available. My friends sent me links to tons of blogs (including this one of a cute canning themed shower), and that's how I found my favorite blog, Young House Love. Their wedding was very similar to what I was picturing! Backyard BBQ style, all outdoors, relaxed, with a vibe like a big family reunion would have. Details on decor ideas later in the post!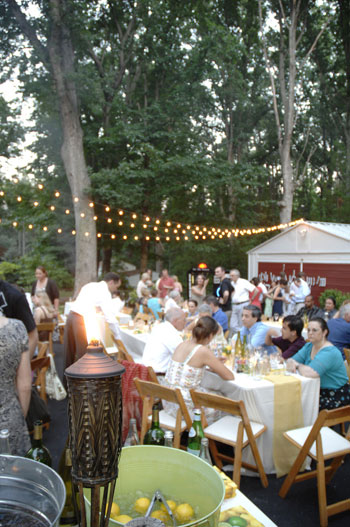 My inspiration: John and Sherry's wedding from the Young House Love blog!
(Image from www.younghouselove.com)
We wavered back and forth on where we wanted to get married. We knew there would be fewer than 60 guests, so we did not need a big venue. We saw the merits of doing something local--I've lived in the Central Valley for seven years now, so I felt that doing something out in farmland would be personal feeling since that's where I work. But, we wanted to keep it small so we considered doing an "on location" wedding up in the Sierras. That lead to massive searches of various venues and rental homes to be used for a small event...but everything was out of our price range or booked (we were engaged for less than four months, and we chose our wedding date based on our summer schedule of vacations, plus weather considerations). We really liked Sorensen's in the Sierras...but again, it was pricey and it would have been difficult to choose a date that worked with our schedules.
Photos from a Fall wedding at Sorensen's--we love the aspens and high mountain ambiance of the resort!
Photo from www.dougmiranda.com.
In March, we decided on an
old country home
that was very close to my work here in the Valley. This home was just changing hands, and the new owners planned on making it into a bed and breakfast type of "country resort". They were very nice and had lots of big ideas, and were more affordable than some other places we had looked at (they asked $1750, other places we had looked at were $3500 and up for a day!). However, when we visited again in April, the house had still not changed hands and no work had been done on the yard. :( So, even though we had already sent out invitations (more on those later in this post) we decided to find a new place, again!
I started asking around, and we ended up finding another privately owned home west of Woodland, CA. The owners are amazing people and had been thinking they might want to open their home for events or even start a B&B. It was perfect, and they charged us much less than the first location we had chosen, only $600 (full budget later in this post!). They even let us start setting up a week in advance, and clean up the next day. They did a TON of work on their house and yard including cleaning and repainting their pond, manicuring their yard, remulching, painting their outdoor furniture, working on lighting, installing new brick path edging, repainting the bathroom in their barn...they were amazing! By the time our wedding date rolled around, their yard was definitely Sunset-magazine-ready! We have nothing but positive things to say about this couple and their home and yard. So, steps 1 and 2: choose date and location: done. (PS We also considered: The Farm on Putah Creek where I used to work, as well as another local landowner's outdoor event space.)
Invites
As for our guest list, we ended up inviting just over 70 people. I have a very small family, so we invited my aunts, uncles, and cousins. Of course we also invited our parents and Adam's sister and brother-in-law, and a bunch of friends, some of whom were my side family friends, and many of whom were friends our age. We ended up with about 52 guests plus the homeowners and two of their friends, our photographers, and our bartender. I made our invitation, which we sent out over e-mail. I loved the email invitation idea, because it was free!! And, I found that people RSVP-ed very quickly (some the same day I sent the invite out). I used iPages to make my invitations, which ended up being a 2 page pdf attached to the email I sent. The first page had all of the relevant info (who, what, where, when) and a cute photo of us (in Tahoe last summer, see below), and the second page had more "bonus" info about hotels, directions, gifts, attire, etc. I emailed each guest individually with the invitation attached. Later, when we had to change locations, I sent another email with new directions in the body of the email, this was bulk mailed (bcc-ed) to everyone at once.
Food & Drink
Next, we knew we wanted to do almost everything ourselves, but we did want to hire a caterer. We chose a local caterer, Buckhorn Catering, since I had been to a bunch of events around here that had used their services and loved the food. We wanted a picnic-y feel, so we had Buckhorn come out with and BBQ their signature tri-tip and chicken on-site.
Since our event was at a private home, we did not need an insured bartender (actually the entire event was covered by a one-day increase in coverage on my parents' homeowners insurance), which lowered our cost quite a bit. A friend of a friend had offered to help out in any way he could (and he was moving into the tank house about a mile from where our wedding was to be held), so we asked if he'd be our bartender. He was great, and we fed him dinner and paid him $60 for a few hours of bartending. The bar consisted of two tables, with beers in party buckets full of ice on the ground (self-serve), pitchers of lemonade and iced tea, two dispensers of alcoholic drinks, and our bartender pouring wine (white wines displayed in a fancy ice bucket on the table and reds next to them not on ice).
For the alcohol, we went to a local wine/beer/liquor superstore and filled our cart with about 15 kinds of bottled beer six packs. We also had decided to do two mixed drinks in dispensers: a margarita and a cranberry-orange punch. For the margarita we bought 1.5 liters of tequila blanco, and for the cranberry orange punch we got spiced rum, peach schnapps, and vodka. We got the cranberry and orange juices at the grocery store, and for the margaritas, we bought a great mixer from Cost Plus. Here are the ratios: